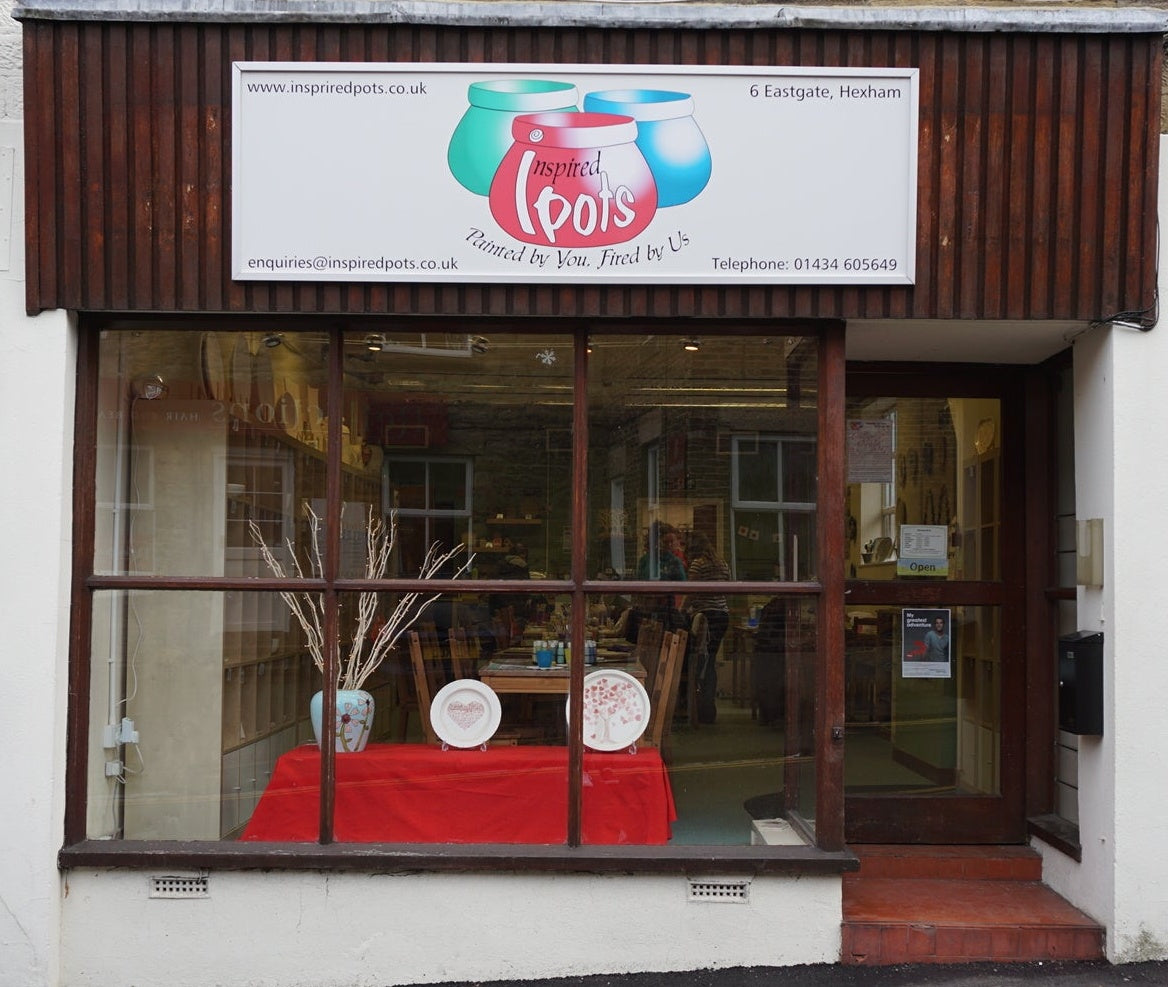 Find us in Hexham
Located in the heart of Hexham, Inspired Pots is your local haven for creativity and celebration. Nestled amongst the charming streets of this historic market town, our studio is a stone's throw away from the iconic Hexham Abbey and the bustling Market Place. Whether you're a local resident or visiting for the day, finding us is easy. We're conveniently situated with nearby parking, making it a breeze to carry your artistic creations home. Drop by to plan your next pottery painting party or to simply explore your artistic side!
Walk-ins of all party sizes are welcome, but for larger groups, a heads-up is appreciated to ensure we craft the perfect experience for everyone!
Find Us & Directions
Paint Your Own Pottery

Unleash your inner artist at Inspired Pots! Walk-ins are always welcome to paint pottery from our diverse collection. To guarantee your spot, especially during weekends or holidays, we recommend booking in advance. Choose from a wide range of ceramics and let your imagination take the lead.

Parties & Events

Celebrate in style with Inspired Pots! Our studio is the perfect venue for parties and events of all kinds. From children's birthday bashes to corporate team-building sessions and even lively hen dos, we cater to every group with a tailored pottery painting experience.

Gifts & Services

Create heartfelt, personalised gifts at Inspired Pots. Capture precious moments with baby handprints, or immortalise the unique detail of your pet's nose print on pottery. These bespoke creations are perfect for gifting to family and friends, marking milestones, and celebrating connections.
About Inspired Pots
Welcome to Inspired Pots, your family-friendly haven for creativity and community spirit in the heart of Hexham. As a cherished family-run business for over 15 years, we have become a cornerstone of the local community, offering a warm, personal touch to what we do.
We take great pride in our craft and our close-knit relationships with our customers—some of whom have been with us since we opened our doors. It's been a joy to witness generations of families bringing colour and art into their lives through pottery. At Inspired Pots, every piece tells a story, and we're honoured to be part of the narratives that unfold within our studio walls.
Join us to paint, create, and make memories.